Giresun Commodity Exchange


Giresun Commodity Exchange (Giresun Ticaret Borsası, GTB) was founded in 1926 .
  Giresun Commodity Exchange was established to handle the purchase and sales of the in shell hazelnut, hazelnut kernel, processed hazelnuts, hazelnut oil, wheat and wheat flour quoted in the commodity exchange market and to determine, register and declare the prices of those goods in the market.
Giresun Licensed Hazelnut Warehouse and Spot Exchange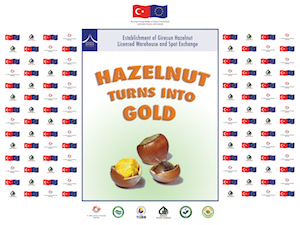 We will break new ground with "Establishment of Giresun Hazelnut Licensed Warehouse and Spot Exchange project" in the world. Within the licensed warehouse in the project , about 17,000 tons in-shell hazelnut will be stocked in the steel silos under the nitrogen gas. In addition to project, a stock exchange session hall, a conference hall and other facilities in administration building will be established.

Works tender of project "Giresun Hazelnut Licensed Warehouse and Spot Exchange Establishment" is under evaluation. Our Project is progressing under the authority of The Ministry of Science, Industry and Technology, DG for EU and Foreign Relations, Regional Competitiveness Programme, Coordination and Implementation Directorate according to schedule.
PHOTOGRAPHIES OF PROJECT
For all photo gallery.